The Philadelphia Eagles and the Kansas City Chiefs will meet in the upcoming U.S. National Football League's Super Bowl championship game.
The Eagles trounced the visiting San Francisco 49ers 31-7 Sunday in the National Football Conference title game. San Francisco's offense suffered a key injury early in the game when rookie quarterback Brock Purdy suffered a serious elbow injury. Backup Josh Johnson filled in for Purdy until he was forced out in the third quarter when he suffered a concussion. With the 49ers out of quarterbacks, Purdy, who spent most of the season as the team's third-string quarterback, returned to the game but was unable to throw deep passes.
Philadelphia quarterback Jalen Hurts, the favorite for the league's Most Valuable Player award, ended the game with 121 passing yards and one of the Eagles' four running touchdowns. The Eagles are heading back to the Super Bowl five years after beating the New England Patriots and their then-star quarterback Tom Brady.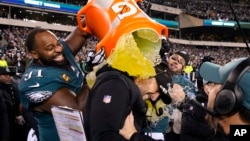 Philadelphia Eagles head coach Nick Sirianni, center, is doused by defensive tackle Fletcher Cox (91) and teammates during the second half of the NFC Championship NFL football game between the Philadelphia Eagles and the San Francisco 49ers on Jan. 29, 2023, in Philadelphia.
Hours later, the Chiefs edged the visiting Cincinnati Bengals 23-20 to win the American Football Conference championship. Kansas City placekicker Harrison Butker made a 3-point field goal with just seconds left in regulation to send the franchise to its third Super Bowl appearance in four years. The Chiefs won the 2020 game 31-20 over the 49ers, but sustained a 31-9 rout one year later to the Tampa Bay Buccaneers, led by none other than Tom Brady.
Kansas City Chiefs safety Justin Reid, left, and Chiefs safety Juan Thornhill, right, celebrate after they beat the Cincinnati Bengals in the NFL AFC Championship playoff football game, Jan. 29, 2023 in Kansas City, Missouri.
The Bengals were trying to beat the Chiefs in the AFC Championship Game for the second consecutive season.
Kansas City Chiefs running back Isiah Pacheco celebrates after the NFL AFC Championship playoff football game against the Cincinnati Bengals, Jan. 29, 2023, in Kansas City, Missouri.
The 57th edition of the Super Bowl will be held on February 12 in Glendale, Arizona, home of the NFL's Arizona Cardinals franchise. The game started as a matchup between the old National Football League and its rival American Football League. The two leagues merged in 1970 under the NFL banner, and the Super Bowl has since become one of the sports world's biggest championship events.
Some information for this report came from The Associated Press, Reuters and Agence France-Presse.